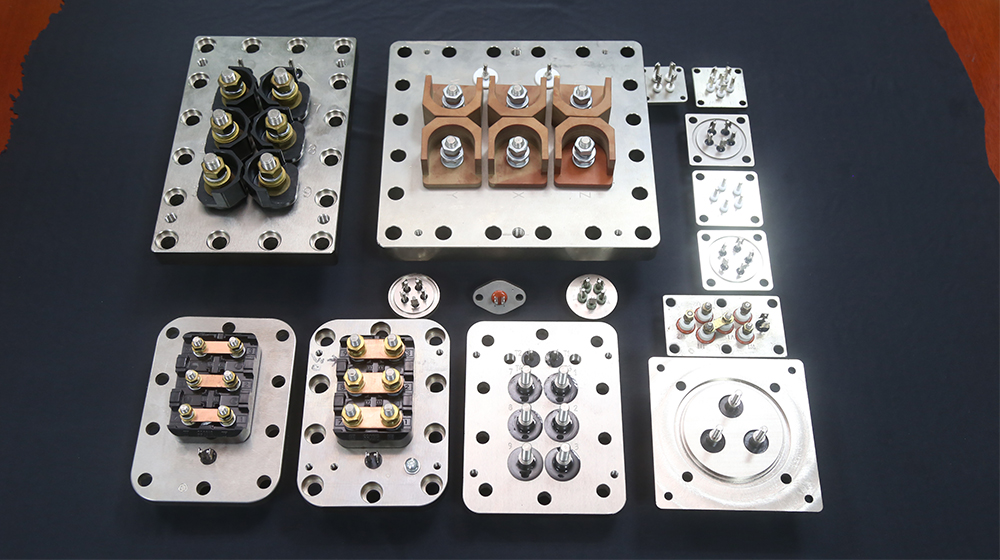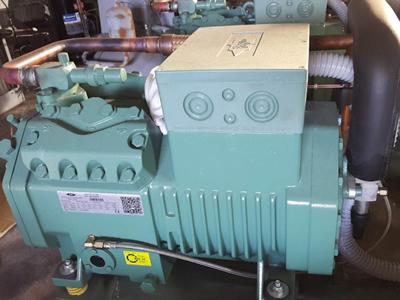 Application:
Semi-hermetic commercial air conditioner terminal plate is mainly used in large-scale water-cooling components, requiring the terminals to have high current carrying capacity, strong withstanding ability of voltage and mechanical stress at the same time establish electrical connection.

Materials:
Metal plate: C45
Pin: C45/ 446SS/ 4J28
Glass: High temp fused glass

Our hermetic terminal plate has features as below
Good insulator: static test at 500VDC, insulation greater than 5000MΩ
Air tightness: remain air tight at 2.5MPa
High voltage withstanding: greater than 2000VAC, current leakage less than 0.5Ma
Corrosive resistant: with reference to salt spray standard GB/T2423.17, reaching level 8 and above
Resistant to various refrigerant: R114a, R410a, R22 and CO2
Resistant to cold and thermal shock: remain functioning from -40 degree Celsius to 300 degree Celsius.
Manufacturing flow
1. Goods receiving
2. Incoming inspection
3. Steel needle etching
4. Oil removing on metal cap
5. Assembly and sintering
6. Air permeability inspection
7. Chemical nickel plating
8. Welding
9. Silicon process
10. Electrical property inspection
11. Appearance inspection
12. QA inspection
13. Packaging
14. Shipping
Surface treatment:
We adopt the environmental friendly electroplating technique, which is electroless nickel plating at 3-5 μm thickness. The nickel coat does not contain hazardous substances such as mercury, lead, cadmium and hexavalent chromium, reaching EU's standards. It passed the SGS environmental test.
Corrosive resistant ability: After a 12 hours 5% salt spray test, the rusty area must not exceed 5% of the total area according to the ISO9227-2017 test standard.
Salt spray test standard: GB/T2423.17,IEC60068-2-11,ISO4628-3
Tables below showing all models of the semi-hermetic commercial air conditioner terminal plate that we manufactured previously
Semi-hermetic Commercial Air Conditioner Terminal Plate SCP-1
| | | | | | | | |
| --- | --- | --- | --- | --- | --- | --- | --- |
| Model | Body thickness: mm | Distance between pins: mm | Pin specifications | Pin length: mm | External size: mm | Surface treatment | Maximum current |
| SCP-1 | 24mm | 60mm | 2*M10-Φ10 | 94mm | 250*240*24 | Electroless nickel | 270A |
---
Semi-hermetic Commercial Air Conditioner Terminal Plate SC-4-58
| | | | | | | | |
| --- | --- | --- | --- | --- | --- | --- | --- |
| Model | Body thickness: mm | Distance between pins: mm | Pin specifications | Pin length: mm | External size: mm | Surface treatment | Maximum current |
| SC-4-58 | 23mm | 48mm | 2*M12-Φ14 | 115mm | 250*160*23 | Electroless nickel | 300A |
---
Semi-hermetic Commercial Air Conditioner Terminal Plate SC-4-66
| | | | | | | | |
| --- | --- | --- | --- | --- | --- | --- | --- |
| Model | Body thickness: mm | Distance between pins: mm | Pin specifications | Pin length: mm | External size: mm | Surface treatment | Maximum current |
| SC-4-66 | 12mm | 30-33mm | M8-M6-Φ8 | 68mm | 170*130*12 | Electroless nickel | 200A |
---
Semi-hermetic Commercial Air Conditioner Terminal Plate SC-4-75
| | | | | | | | |
| --- | --- | --- | --- | --- | --- | --- | --- |
| Model | Body thickness: mm | Distance between pins: mm | Pin specifications | Pin length: mm | External size: mm | Surface treatment | Maximum current |
| SC-4-75 | 25mm | 49-80mm | 2*M10-Φ16 | 123.5mm | 322*253*25 | Electroless nickel | 270A |
---
Semi-hermetic Commercial Air Conditioner Terminal Plate SC-4-20
| | | | | | | | |
| --- | --- | --- | --- | --- | --- | --- | --- |
| Model | Body thickness: mm | Distance between pins: mm | Pin specifications | Pin length: mm | External size: mm | Surface treatment | Maximum current |
| SC-4-20 | 12mm | 30mm | M6-M5-Φ8 | 70mm | 165*120*12 | Electroless nickel | 170A |
---
Semi-hermetic Commercial Air Conditioner Terminal Plate SC-4-60
| | | | | | | | |
| --- | --- | --- | --- | --- | --- | --- | --- |
| Model | Body thickness: mm | Distance between pins: mm | Pin specifications | Pin length: mm | External size: mm | Surface treatment | Maximum current |
| SC-4-60 | 6.5mm | 5mm | Φ3.2mm | 36.5mm | 63*63*6.5 | Electroless nickel | 30A |
---
Semi-hermetic Commercial Air Conditioner Terminal Plate SC-4-47
| | | | | | | | |
| --- | --- | --- | --- | --- | --- | --- | --- |
| Model | Body thickness: mm | Distance between pins: mm | Pin specifications | Pin length: mm | External size: mm | Surface treatment | Maximum current |
| SC-4-47 | 6.5mm | 3.6mm | Φ3.2mm | 36.5mm | Φ46*6.5 | Electroless nickel | 30A |
---
Semi-hermetic Commercial Air Conditioner Terminal Plate SC-5-14
| | | | | |
| --- | --- | --- | --- | --- |
| Model | Pin specifications | Pin length: mm | Surface treatment | Maximum current |
| SC-5-14 | 1/2-13UNC 3/8-16UNC | 150mm | Copper | 200A |
---
Semi-hermetic Commercial Air Conditioner Terminal Plate SC-4-17
| | | | | | | | |
| --- | --- | --- | --- | --- | --- | --- | --- |
| Model | Body thickness: mm | Distance between pins: mm | Pin specifications | Pin length: mm | External size: mm | Surface treatment | Maximum current |
| SC-4-17 | 7.2mm | 4.2mm | Φ3.2mm | 39mm | 52*52*7.2 | Electroless nickel | 30A |
Index
semi-hermetic seal, glass to metal seal, commercial compressor seal